Technological change in the world of CONTROLLER system follows the trend of PC development. The higher speed and the better technologically-challenged the PC is, the more it provides the platform for a better modular and remote control system.

Scientec revolutionizes Control System with mini-controller ™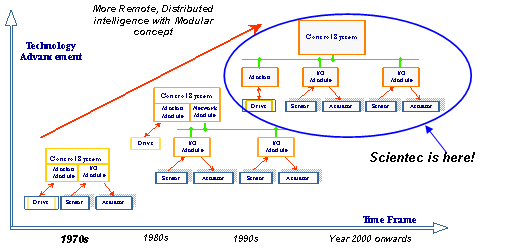 mini-controller™ offers a solution to current controller system that has not seen any revolutionary change for the last many years. This product is created to replace the incumbent system of PC-based control system of I/O cards, huge industrial PCs and long connecting wires.
While mini-controller™ is created with the intention of taking advantage of PC technology advancement, it is inadvertently replacing Programmable Logic Controller (PLC). This is because mini-controller™ is a PC-based control system that offers better versatility, connectivity and non-proprietary feature.
To speed up the migration, Scientec Technology is making PC-based control system even more versatile by introducing small, remote and modularly distributed intelligence. It uses USB with CAN and wireless applications are available as well. Firewire, Bluetooth, Ethernet is being developed.